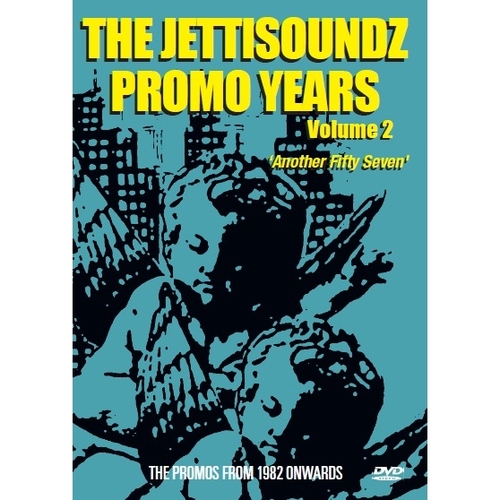 Jettisoundz Promo Years - Vol.2
| Format | Price | Buy |
| --- | --- | --- |
| Jettisoundz Promo Years - Vol.2 | £9.99 | |
Description
Various Artists - Jettisoundz Promo Years - Vol.2
Well I knew there was about 50 further titles, this looks like it does the trick though. I remember that first one in 1982 like it was yesterday, can't really believe i'm still making
promos to this day. I surpose I must just like it.

Another in that same year was Door 66, the singer changed his name to Dave Thewlis (from
Wheeler) and became a hollywoon actor. A couple of years later we have The Blubbery Hellbellys and The Sharks, both shot on film by Dave Winterbottom (before he started work as a Director). Includes 'Gentle Pornography' the first Art Film by Karen Bentham.


The rest are by John & Karen Bentham, with some help along the way by Jon Davenport, Bob
Robinson, Richard King and others, You'll Find them all featured at youtube.com/johnbentham
seach for 'Jettisoundz Promos'.


John Bentham - November 2012


01 ZANTI MISFITZ 'Love Ends At 8'
02 DOOR 66 'Mrs Mooneys House'
03 LIGOTAGE 'Crime And Passion'
04 SCREAMING LORD SUTCH 'The Wolfman Strikes Again'
05 TORME 'Star'
06 LIVING IN TEXAS 'Godemokrafasc'
07 TURNPIKE CRUISERS 'I Wanna Be Like You'
08 MIKE HARVEY BAND 'The Blackpool I Love'
09 BLUBBERY HELLBELLYS 'I Dont Wanna Get Thin'
10 SHARKS 'Short Shark Shock'
11 ATILLA THE STOCKBROKER 'Vegeatables'
GENTLE PORNOGRAPHY
12 ZANTI MISFITZ 'There Was A Time'
13 ZANTI MISFITZ 'phychophant'
14 DOOR 66 'Mrs Mooneys House'
15 JACKSON HARMONY TRIO 'You Got Me Crying Again'
16 DIVERT OFF CENTRE 'Instant Death And Immortality'
17 ZANTI MISFITZ 'Masked Friend Of The Emperor'
18 ZANTI MISFITZ 'Constant Buzz'
19 ZANTI MISFITZ 'Summer Days'
----------------------------
20 INNER CITY UNIT 'Paint Your Windows White'
21 INNER CITY UNIT 'Little Black Egg'
22 SLY AND ROBBIE 'Make Em Move'
23 TINA TURNER 'One Of The Living'
24 SWEET PAIN 'New Toy'
25 DANCING HOODS 'Impossible Years'
26 CRUMSUCKERS Bullshit Society'
27 BABY TUCKOO Clean Beginning'
28 MACC LADS 'No Sheep Till Buxton'
29 GUANA BATZ 'Rock This Town'
30 ALIEN SEX FIEND 'RIP'
31 EXPLOITED 'War Now'
32 RIVERSIDE TRIO 'Just Another Day'
33 WIGS '6 O Clock Shuffle'
34 EX-PISTOLS 'Dont Fear'
35 COSMIC GROOVERS 'Penny Dreadfull'
36 BLACK ROSE 'Poor Little Rich Girl'
37 ALIEN SEX FIEND 'Bun Ho'
38 LONG TALL TEXANS 'Get Back Wet Back'
39 MANTAS 'Deceiver'
40 2 KUT 'Beat Boy'
41 BLUE ANGER 'Total Intervention'
42 METEORS 'Chainsaw Boogie'
43 LOVES CRAZY ASRTONAUTS 'Feed Me'
44 TORANAGA 'The Shrine'
45 SEA HORSES 'Asking Heavan And Heart'
46 POPGUNS 'Still A World Away'
47 CANDLESTICK PARK 'All The Time In The World'
48 ROZALLA 'Eveybodys Free'
49 REALITY 'Feel It'
50 LCD 'Gear Boxing'
51 ASTRALASIA '9 Miles High'
52 MARK ALMOND 'Say Hello Wave Goodbye'
53 BLIND MR JONES 'Disney World'
54 LINK WRAY 'Rumble'
55 HAWKWIND 'Reptoid'