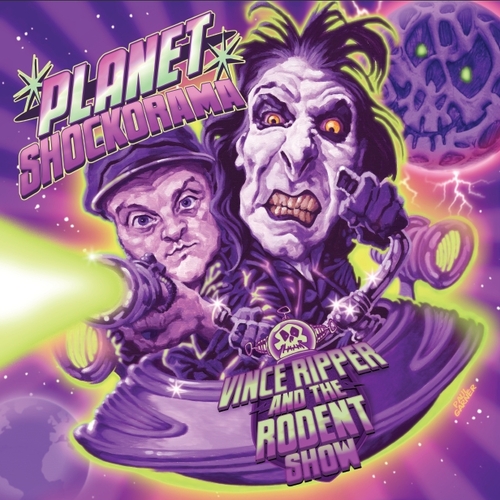 Planet Shockorama
| Format | Price | Buy |
| --- | --- | --- |
| Planet Shockorama | £7.99 | |
Description
Vince Ripper And The Rodent Show - Planet Shockorama
Not since Orson Welles' War of the Worlds radio broadcast has humanity been driven to run screaming through the streets! PLANET SHOCKORAMA delivers the shivers to an unsuspecting world, infecting the Earth with hell-bent, sex-crazed, rock'n'roll sounds emanating from the deep, dark cosmos! It's the War of the Worlds all over again, except this time it's REAL!

VIDEO PROMO - Scary Monsters
https://youtu.be/W4sN0d4F6Y8

Now begins the release schedule, the odd thing will appearing from now but the main release will be WORLD WIDE DIGITAL across 75 outlets internationaly in Mid-June. That will be launched by Beginning-June with UK based CD release of the album

PLANET SHOCKORAMA

01 Planet Claire
02 Teenager From Mars
03 7 and 7 Is
04 Outer Limits
05 The Invasion Is Coming
06 I Can't Find My Mind
07 Silver Machine
08 Rocket USA
09 (Shock) Love Me
10 The Blob
11 Mystery Plane
12 Flying Saucer Rock and Roll
13 EST
14 Scary Monsters

Vince Ripper & the Rodent Show have a place on the Internet, starting with thier first release 'Boneyard a Go Go!!!', followed by 'Boneyard Hits' and 'Its Fun To Be A Monster'. They have a range of videos, and started off life covering 'Alien Sex Fiend' & 'Cramps' tracks, but have turned this into a full on thing with 'PLANET SHOCKORAMA'. Their shows are an experience to behold, they have done them up and down the country, they are now on the cusp of leaving, with shows pencilled in Europe, Mexico & the USA.