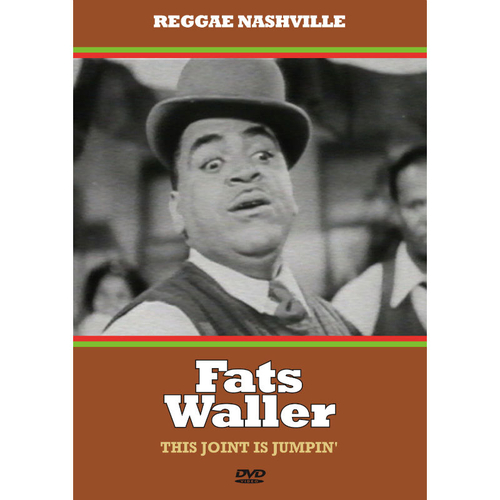 This Joint is Jumping
| Format | Price | Buy |
| --- | --- | --- |
| This Joint is Jumping | £9.99 | |
Description
Fats Waller - This Joint is Jumping
On this one, John, you need to correct the spelling of This Joint Is Jumpin' on your own title card - NO "G".

Fats Waller - This Joint Is Jumpin' celebrates the exemplary life and work of the greatest of jazz entertainers. Fats started playing church organ at age 10 and his all-action musical career ended, full speed ahead, at the age of 39. He had written probably 950 to a thousand tunes, many of them sold for "beer-money" to greedy music publishers. He had touched a whole generation of fellow musicians with his extraordinary piano style, notably the strong left hand of stride. He had played classics, the Three Bs (Bach, Beethoven & Brahms) at Carnegie Hall.


He'd appeared in movies like Stormy Weather with Lena Horne and Bill Robinson. He helped make soundies, or video juke-box promos, the much-appreciated art-form it is today. He played private parties for gangsters like Al Capone and Hollywood royalty like Humphrey Bogart and Tallulah Bankhead. He collaborated with the great Andy Razaf. But most of all, he partied. More than any other musician in the history of popular music, he knew how to enjoy himself, in clubs and after hours, twenty four hours a day.


Documentary features his son, Maurice Waller, and Eddie Barefield and Marshal Royal, fellow musicians. Sammy Price and Paul Machlin talk about stride and Andy Razaf's widow, Jean Hutson remembers him


Featured Songs


Do Me A Favor, I've Got My Fingers Crossed, Got Religion In My Soul, California Shout, I'm Living In A Great Big Way, The Joint Is Jumpin, I'm Gonna Sit Right Down & Write Myself A Letter, Honeysuckle Rose, Your Feet's Too Big, Tain't Nobody's Biz-Ness If I Do, Jitterbug Waltz, Handful of Keys, Ain't Misbehavin.