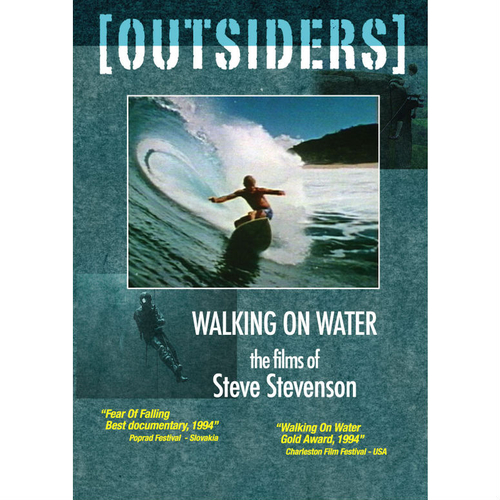 Walking On Water
| Format | Price | Buy |
| --- | --- | --- |
| Walking On Water | £9.99 | |
Description
Steve Stevenson - Walking On Water
Steve Stevenson made two unforgettable mini-masterpieces in the first half of the 1990s. A distinguished film editor in his own right, as a director of documentaries he briefly celebrated two cutting-edge sports of the moment – extreme rock climbing and big-wave surfing before the invention of the tow-in. Uniquely, he concentrates on the technologies of these two daredevil sports, something which brings an unrivalled change of perspective to now-well-documented territory. The films are textbook, the sorts of films which you can watch again and again. They have done the rounds of many a beach-party or after-hours drinking session, now they are available in all their glory.

Fear of Falling (1993) - 52 mins. To challenge the verticals, this has probably always been the first and the last of the celebration of man's courage in exposure to nature. The great Ben Moon demonstrates his skills as the pre-eminent rock-climber of his day ; and the best speleologists show us what it's like to check out the bowels of the earth. The emphasis is uniquely not on the why nor the wherefor, but on how it's done. The result is a lyrical poem about stones and clinging on top them or hanging off of them.


Walking on Water (1994) - 52 mins. Based on the cult voyage philosophe around 'surfing' written by Andy Martin, who acted a consultant to the film, Walking on Water is a rip through the science of waves and wave-riding. 1994 was the summer the legendary Mark Foo died at Mavericks, and this film features his last interview. Shot on Oahu, Hawaii, and in California, it contains most of the great surf characters of the day, and some mythic tales of whales leaping out of 50 foot waves off Waimea ; and space-age materials developed for the military and re-engineered to make this most elemental of sports more appealing.